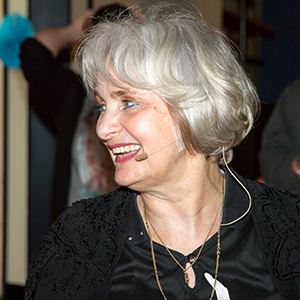 Annetje Riel is geen onbekende in het land van het partnerdansen. Of het nu gaat om Salsa of Stijldansen, Annetje draait al heel wat jaartjes mee.
FDO gediplomeerd danslerares, top-wedstrijddanser, docente Argentijnse Tango, Salsa, Bachata en meer, gaf ze les op nationale en internationale Congressen. Samen met partner Marlon Castillo was ze verantwoordelijk voor de introductie van de LA Style Salsa in Nederland in 1989. Ze organiseerde, als eerste in Europa, 6 Europese Salsa Festivals, had jarenlang een grote dansschool in Haarlem en vertaalde dansen als Salsa, Merengue, Bachata en West Coast Swing voor rolstoeldansers in opdracht van de SRN.
Zij traint amateurs en professionals op gebied van onder andere Salsa, Argentijnse Tango, Bachata en West Coast Swing, geeft met veel plezier clublessen en verzorgt workshops voor amateurs en het bedrijfsleven.
Ze houdt ze zich bezig met het vormgeven en invullen van de eerste internationaal erkende opleiding voor salsadocenten en –assistenten onder toezicht van de SON, waar ook trainingen worden verzorgd voor professionals die dansles willen geven aan mensen met een beperking.
Zij ontwikkelde een lesprogramma om Salsa, Bachata en Merengue te dansen met visueel beperkten, en met de Stichting Inclusive Dance NL gaat zij met veel enthousiasme de uitdaging aan om de wereld voor mensen met en zonder beperking door middel van het dansen te vergroten.
Binnen Inclusive Dance NL vertegenwoordigt Annetje in het bijzonder de groep mensen met een visuele beperking.